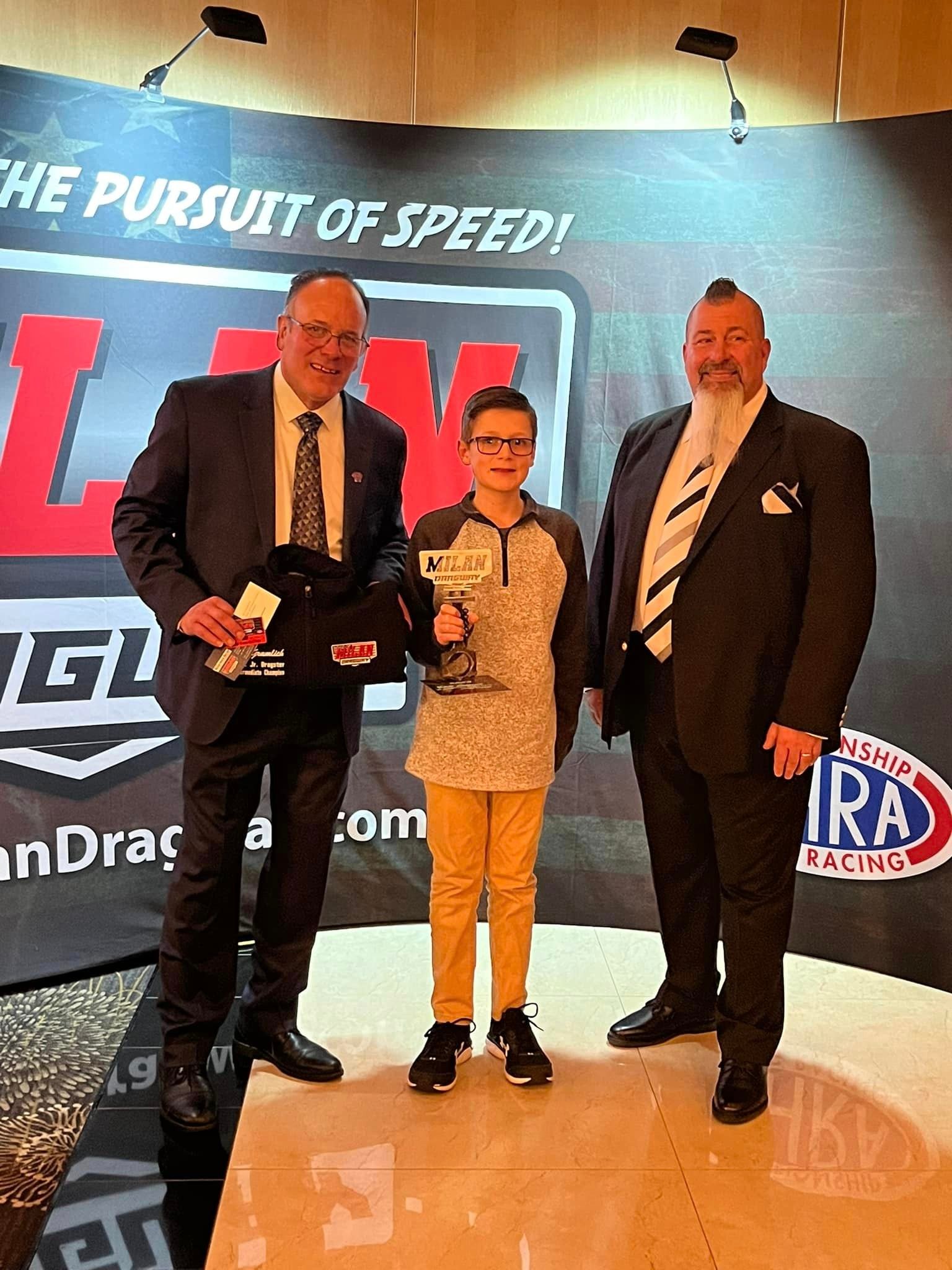 GET TO KNOW YOUR CHAMPIONS: JR. DRAGSTER EDITION: Here's another story of a Rad Coatings Jr. Dragster Series champion from Milan Dragway in 2022 – including the story of Milan's tightest points battle of the year.

DRIVER: AJ

AGE: 12

CLASS: Intermediate (ages 10-12)

HOMETOWN: Maybee, Michigan

MILAN WINS IN 2022: 1 win, 2 runner-ups in 5 races

WHAT WAS IT LIKE WHEN YOU LEARNED YOU WERE CHAMPION? Heading into the final race, there was only one way Autumn Gibson could catch AJ for the points championship: Autumn had to win the race and AJ needed to lose first round.

Autumn took out AJ in the first round. It was the "worst-case scenario," AJ's mother Lisa Gramlich said.

But Autumn lost in the next round. Lisa got to deliver the news to her son – who was in the staging lanes for the consolation race – that he was the champion.

AJ beat his cousin Jackson Gramlich by just one point, 147 to 146 – as Jackson won the final race, but didn't have a way to catch his cousin in the final week.

HOW DID YOU GET INTO RACING?: AJ grew up in a family of racers, coming to the track before he could even walk. He started racing at 6 years old.

WHICH JR. DRAGSTER DRIVERS ARE YOU RELATED TO?: Jackson and Julia Gramlich are AJ's cousins, and Aubree Gramlich is his sister.

AJ raced his sister once before moving up to the intermediate class.

"I raced her my last season of novice, the last race, in the finals," AJ said. "And I whooped her!"

WHAT'S YOUR MOST MEMORABLE WIN?: "Winning my second Wally at Milan. And a close second was beating my sister."

FAVORITE RACECAR DRIVER: John Force

OTHER HOBBIES: Baseball, basketball, football and bowling

DREAM CAR: Jake Huntington's RoadMaster sleeper truck, which is nicknamed "Uncle Buck"

WHAT DO YOU WANT TO BE WHEN YOU GROW UP?: A top fuel dragster racer. "I don't want to race the funny cars because they're, like, scary. The dragsters, you're actually aerodynamic."

WHAT DO OTHER KIDS SAY WHEN THEY LEARN YOU'RE A RACECAR DRIVER? "They ask me if I have a driver's license, and I say, 'Yes.' And they say, 'No you don't, you're only 11 or 12,'" AJ said. "They give me heck about it."

Classmates aren't the only ones surprised to hear about AJ's weekend hobby. AJ's teacher emailed his parents out of concern – thinking AJ was making up stories about racing cars. His mom, Lisa, set the record straight, sending pictures and videos as proof.

"That teacher felt terrible," Lisa said.

WHO WOULD YOU LIKE TO THANK?: Chris Baxter and the Milan staff for bringing juniors back to Milan; Ron Lange of Rad Coatings and Sue Christopherson with Juice Plus for sponsoring the $1,000 runoffs; Papa Larry and Grandma Terri for sponsoring the consolation race; McCormack Racing for sponsoring new slicks to the champions; my parents and Uncle Mike for letting me race and teaching me how to win and, lastly, to my family and Keith Woods for cheering me on.