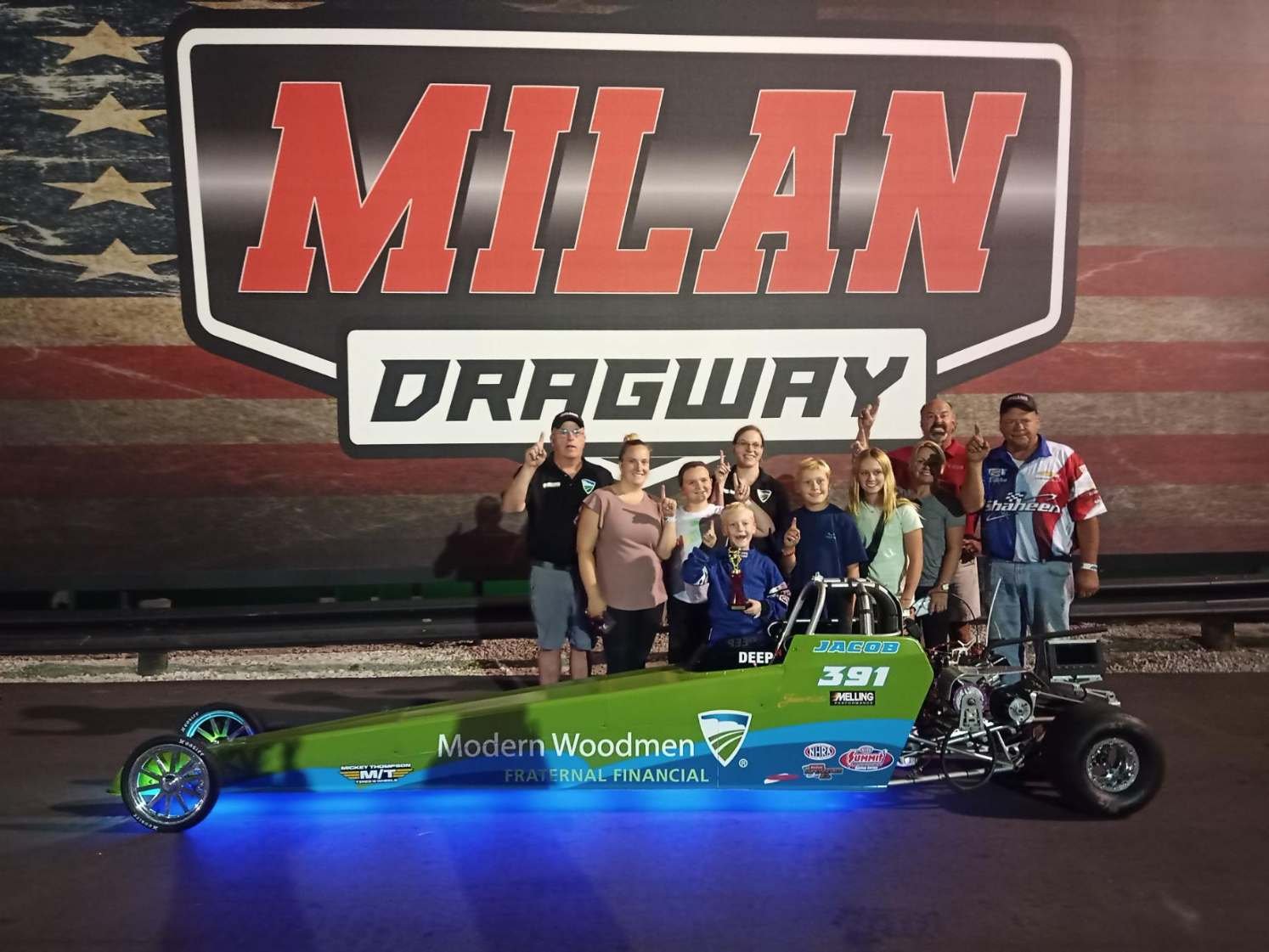 GET TO KNOW YOUR CHAMPIONS: JR. DRAGSTER EDITION: Milan Dragway is sharing stories about its 2022 class champions. Here's more on our youngest champ, a 7-year-old driver coming off his first season in the Rad Coatings Jr. Dragster Series.

DRIVER: Jacob Vile

CLASS: Novice (Ages 6-9)

HOMETOWN: Fenton, Michigan

AGE, YEARS RACING: 7, first year racing

HOW DID YOU GET INTO RACING?: "I just learned it from my papa and it sounded fun to me," Jacob said.

Horsepower is in Jacob's blood, as his grandpa was a monster truck driver and his cousin, Ellieanna Oldenburg, has raced juniors at Milan Dragway for a few years. Jacob's grandpa started working with him and helping Jacob practice in the racecar so he could race in 2022.

HOW DID YOU LEARN YOU WERE THE CHAMP?: The novice championship came down to the final round of the final race, as Jacob and Ethan Russel were tied in points and both advanced to the final.

Jacob had the better reaction time and was first to the stripe. But didn't know he was the champ until his family came to pick him up on the Gator.

"It was a surprise for me. I didn't know," Jacob said. "(I was) so happy."

DREAM CAR: "A dually Ford that's old."

 INTERESTS OUTSIDE OF RACING: Minecraft, basketball and looking out the car windows on the way to the track

WHAT DO YOU WANT TO BE WHEN YOU GROW UP?: "A train driver or a farmer. Or maybe a racer."

ADVICE FOR A KID JUST STARTING IN JR. DRAGSTERS?: "I would tell them how the lights work. And how to slow down at the turnoff (so that you don't flip the car over)."

FAVORITE DRIVER: John Force

WHO DO YOU WANT TO THANK?: "I want to thank my papa and my uncle," Jacob said, in addition to his sponsors Modern Woodman Fraternal Financial and Melling Performance.