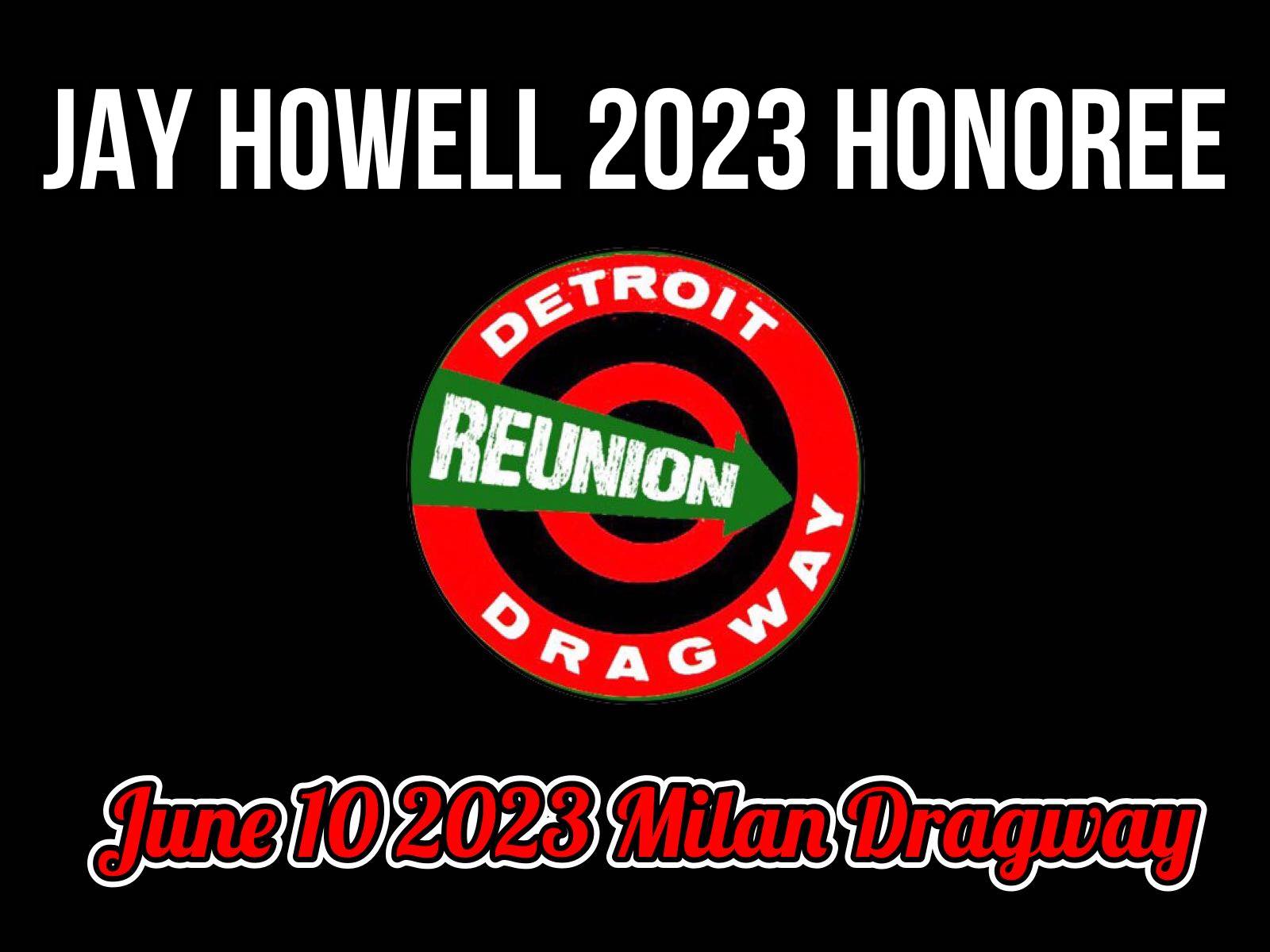 For many NHRA fans, Jay Howell may be among the most unsung drag racing heroes they never knew about. Regular readers of this column may be familiar with him from occasional mentions, but those old-time racers we all know and love certainly all knew and respected Howell for his ability to both build and drive race cars during a heady career in the 1960s.
Not only did he build or have a hand in building some of the most famous vehicles to traverse the quarter-mile on two or four wheels, but he also drove some of them. He's also one of very few trusted by Don Prudhomme to drive one of "the Snake's" cars in his early racing days, which says a lot about how people felt about Howell.
Howell was born in Detroit in 1942, and he and his brother, Jim, were raised by their paternal grandparents after their parents died. Howell found his calling early, cruising Detroit's legendary Woodward Avenue as a teen, stoking his hot rod dreams.
Howell's first race car was a Buick Special that he bought new in 1962 from Carl Fischer's dealership, where he worked as a mechanic and which sponsored the car. He ran in D/Stock and the following year with a blower in C/GS. After General Motors dropped its factory support that season, Fischer's gave Howell all the engines and spare parts, and he used them to build a lightweight Buick-powered roadster that competed in Middle eliminator at Detroit and Motor City Dragways.
Jay Howell's early blown roadster at Detroit Dragway
He was introduced to drag racing in 1960 by Jim, who was driving Pete Seaton's Seaton's Shaker 1960 Pontiac Super Stocker. Howell and Seaton became good friends and later partners in Automotive Engineering, which Howell opened in 1966.
Prior to striking out on his own, though, Howell worked for Dick Branstner at Branstner Enterprises in Troy, Mich. Branstner and driver Roger Lindamood had just won Top Stock at the 1964 Nationals with their Color Me Gone Dodge, and Branstner hired Howell to run the operation, which built engines and did chassis work for Super Stock and A/FX cars.
Among the company's major contributions to drag racing lore was the refinement of the Little Red Wagon wheelstander, which didn't actually begin life as a wheelstander; Howell's contribution is that he took it on one of its groundbreaking "flights."
"The Little Red Wagon was conceived and built by two engineers at Dodge Truck, Jim Schaeffer and John Collins," recalled Howell. "It was powered by a 426 Hemi on gas and carburetors, with a rigid rear suspension. We were playing around doing neutral starts — transmission in neutral, go to wide open throttle, and punch the Drive button! — and it would pick the front wheels up maybe a foot or two. Spectators loved it. The truck was more or less being passed around to various teams, and it ended up at Branstner's after the rear suspension had been improved. It was assigned to me for some 'development work.' I ordered a roll cage to be installed and replaced the stock 426 engine with an injected engine on nitromethane.
Howell at the wheel of the Little Red Wagon
"It was late '64, and we were at Motor City Dragway outside of Detroit. I pulled up to the starting line to make a pass, and in the right lane was my friend Tony Knieper in his GTO. The injected nitro motor didn't require a neutral start to pick the wheels up, but this time, it went up and kept going! The truck always had a tendency to drift right, and, true to form, it proceeded to do its thing. I'm now on the tailgate, and somewhere underneath the front wheels is my buddy Tony. I stayed in it until I saw him drive out from underneath me. I lifted, and it came down like a ton of bricks. It was quite a day. Dodge PR had a photographer there, and one of the local TV stations got it all on film. It made the 11 o'clock news. The rest is history — well, almost."
According to Howell, the truck was funded by Dodge PR, and Frank Wylie assigned the truck to Bill "Maverick" Golden to campaign nationally.
Continued Howell, " 'Maverick' arrived in town for 'driving lessons' about the time I finished the install of a nitro-fueled, supercharged 426. It was late fall when we all returned to Motor City, and it was cold. I made a couple passes but couldn't get it anywhere near hooking up. Late in the day, I made a pretty good pass and mentioned to Branstner, 'I think it's carrying the front end in the lights.' We had a rather vigorous discussion, which I concluded by saying something stupid like, 'Fine, I won't lift, and we'll see who's right!' Next pass, straight up, 147 in the lights. 'Maverick' opted not to drive it that day. I reinstalled the injected engine, and 'Maverick' went on his way.
"I have to give Frank Wylie a lot of credit for being a man of his word. He knew I was less than pleased over his giving the Little Red Wagon to 'Maverick.' He came to the shop during the reassignment and took me aside and said something like, 'Don't worry; I'll make it up to you.' Did he ever!"
Wylie arranged a meeting with Branstner and Howell and asked Howell to describe the dream car he would like to build and drive. His answer became the Dart Charger, a mid-engine blown, injected nitro Funny Car.
"It was the first Funny Car I built," Howell recalled fondly. "Dick confided to me that the contract was the first million-dollar deal ever for drag racing by Dodge. We match raced it some and took it to Indy in '65 and set low e.t. and top speed with a 9.02 at 164 mph."
The mid-engine Cotton Picker was one of the many memorable cars that Howell built while working with Dick Branstner.
While working for Branstner, Howell also built a car shown previously in this column, the Cotton Picker mid-engine Dodge wagon, for stock-car heroes Cotton Owens and David Pearson, and several altered-wheelbase cars, including Bill Flynn's memorable Yankee Peddler.
Howell left Branstner later that year to open Automotive Engineering. The Dart Charger was given to Don Garlits, who tabbed Emory Cook to drive. According to Howell, Cook turned the car overbackward in the lights at Detroit Dragway, totaling the car, but walked away unharmed.
Howell's successes with Branstner did not go unnoticed, and when Bill Shrewsberry went looking for someone to build the first L.A. Dart wheelstander, Howell's experience with the Wagon paid off in spades. The car was quickly built and on the way into drag racing annals. The staff at Automotive Engineering, including Howell's brother, Jim, turned out a number of highly memorable, successful, and innovative Funny Cars, including Don Gay's Infinity GTO, the Ramchargers "Skinny Dart," and the Seaton's Shaker Corvair, which Howell even drove for a while and with which he set the speed record at Detroit Dragway in 1967 at 179 mph.
Business was booming for Howell, forcing him to move to a larger shop in 1967. His reputation and success caught the eyes of the famous chassis-building Logghe brothers, Gene and Ron, who – during one boys' night out over skeet (and bull) shooting at Ted's Blue Rock Gun Club in Warren, Mich. — offered to buy Automotive Engineering and hire Howell to run the combined operation. Howell agreed.
"It was one of the best decisions I ever made," he said. "They were very talented guys, and I thoroughly enjoyed knowing and working with them. We were turning out Funny Cars at an unbelievable rate, not to mention Top Fuel dragsters, altereds, street rods, and more."
The Prock & Howell F Troop Willys was one of Howell's most popular cars.
One of the Logghes' customers was Tom Prock, who had a '33 Willys A/GS machine. Howell quickly teamed with Prock, and, using a basic Stage I Logghe Funny Car chassis, built a tube-chassis Willys. Howell shortened and narrowed the chassis to fit a B&N fiberglass body, and Al Bergler did the tinwork. With a flip-top body (with one opening door) and a full roll cage, it was the envy of every team but wouldn't pass NHRA tech inspection.
"We took it to the NHRA Regional at Indy, and they wouldn't let it run," Howell recalled. "Something about the framerails not being original or something like that. Car Craft magazine did a nice feature story on it, which included a cutaway drawing. We ran the car some in '68 and put it in the attic at Logghes that winter. The Hill brothers, Pete and Bill, contacted us about forming a four-car outlaw Nitro Gasser circuit featuring their Willys, our car, Jim Shore's Anglia, and Chuck Finders in another Anglia. We agreed to join, and I replaced the 427 Chevrolet with a 426 Chrysler, and the fun began.
"The circuit, many times, resembled a traveling circus. I was the only one of the group who had a full-time job. Getting back to work on Mondays was always a challenge. We also learned that '33 Willys want to fly from the rear at speeds above 165. That made for some very interesting rides. Picture being sideways in the lights, left rear off the ground, then Bill Simpson's crossform would hit, and all was well again. The Logghes came up with the solution. A pair of small wings were fabricated and installed on the rear fenders. Tom and I showed up out East for a race. We rolled the Willys out of the trailer, and the Hill brothers and group crack up, pointing and laughing and then dubbing them 'Mickey Mouse ears.' First pass I laid down was a 178! Next week, they all had 'em! The car pretty much dominated the circuit, running consistent 8.0s and 185 plus while pedaling it.
That winter, Howell, Prock, and the Logghes decided to build and compete a rolling test lab in the form of a Mustang Funny Car. Prock and Howell sold the Willys ("A mistake," admitted Howell) and transplanted the Willys' drivetrain into the new Funny Car, dubbed Warhorse. With Howell driving and Prock wrenching, they finished fourth in the AHRA series, highlighted by winning all three days of the Summer Nationals in Detroit against a field that included Prudhomme, Tom McEwen, Gene Snow, the Ramchargers, and more. The Drag News headline read "Howell all the way at Detroit!" There's a pretty cool video clip of the car (and others) in action at New York National Speedway here.
Howell decided to retire from racing at the end of 1970, calling it a season even before the U.S. Nationals, but fate had other plans.
(Above) Howell had the honor of running Don Prudhomme's Hot Wheels Barracuda Funny Car in Indy in 1970. (Below) He was part of the first side-by-side six-second Funny Car pass there, running alongside the Candies & Hughes team.
"I was planning a Labor Day vacation with my wife and kids," recalled Howell. "Prudhomme approached me about Tom and me racing his Hot Wheels Funny Car for him while he would race his Top Fuel dragster. I think he offered us something like $250. I told him I'd pass and take the vacation option. We compromised and agreed on a better number (for us).
"He showed up with a brand-new Keith Black stroker motor in it. It was stout! No one had ever run in the sixes at a national event, and Tom and I wanted to be the first. The first pass, it launched, wheels up, right for the guardrail. I shut it off, coasted through, and we put it right back in the staging lanes. Next pass, we were paired up against Candies & Hughes. They were experimenting with a B&M/Crowerglide, and they laid down a 6.83 against my shutting-off 6.99. I had the dubious honor of being the first driver to make a six-second pass and lose!
"Our next qualifying run nearly got us thrown out of the race. Fire burnouts, once very popular, had been banned from NHRA events. We fired up for our final qualifying pass, and Tom's got that baby hopped up. I pull into the bleach box, and Tom pours down the liquid traction compound on the right side. Normally (remember we're talking about Tom here with 'normal' in the same sentence), he would come around and pour the left tire and then guide me forward into the liquid. This time, he never shows up on the left side. Next thing I realize, my butt's burning. Tom has set the friggin' bleach box on fire! I hammer the throttle and did this giant fire burnout. When the smoke clears, Buster Couch is standing in front of the car, and he is pissed! Fortunately, 'Snake' was there and assured him it was an accident. Tom later told me that the engine was hittin' so hard his ears couldn't stand the pain, so he just threw the traction bottle at the left rear, and it splashed on the headers, lighting the box."
Howell qualified No. 5 and easily defeated Cliff Zink in round one but fell to eventual winner Don Schumacher in the second frame.
" 'Snake' came by and chatted with us and then went back to the dragster area to tend to his ride. When we fired the car for round two, it sounded like crap! No throttle response and would barely do a burnout. We were done! A month or so later, I asked 'Snake' what he found. He said there were TWO jets, one on top of the other, in the injector. I still don't agree with Tom and 'the Snake's' theory as to what happened."
Prudhomme, of course, freed of the distraction of running the Funny Car, won Top Fuel for the second straight time and third overall in Indy, defeating Jim Nicoll in that memorable final round that ended with the front half of Nicoll's digger sliding downtrack in front of Prudhomme after a massive clutch explosion.
Howell did retire at the end of the 1970 season and accepted an offer from the Ramchargers to launch its speed-shop endeavor. He worked there for four or five years before moving his family to northern Michigan.
A few years ago, Howell got a call from Dan Hix, who had come into possession of the F Troop Willys. The car had changed hands quite a few times and had even been raced in Hawaii before returning to the States. Hix found it for sale at a flea market in Wisconsin.
"Pictures were sent, and I was sick," said Howell. "It had been so hacked up! Dan was determined to bring it back to its glory days, and he really did. Steve Timoszyk of Belleville, Mich., is the owner. Steve invited me to attend the Bowling Green Hot Rod Reunion in 2005 to drive it in the Cacklefest. I hadn't seen her for 35 years! It was a very nice reunion.
"In November 2008, I was honored with induction into the Michigan Motorsports Hall of Fame. It was, to say the least, a pretty humbling experience."
Howell operated a Goodyear tire service center and car wash in Gaylord, Mich., for 13 years and later became a certified financial planner. He retired in 2006, and he and his wife, Diane, sold their house, cars, hot rod, and most all of their stuff and moved aboard his sailboat.
"We've sailed the eastern Atlantic from Maine to the southern Bahamas," he said proudly. "If the world situation ever settles down in my lifetime, we'd like to sail to Europe and spend a few years there. Keep your eyes open for a 40-foot sloop that answers to 'Far Niente,' which is Italian for 'Without a care.' Hail us on the VHF and stop by for a painkiller. I'm still racing along, just a little slower now. About 7 knots."