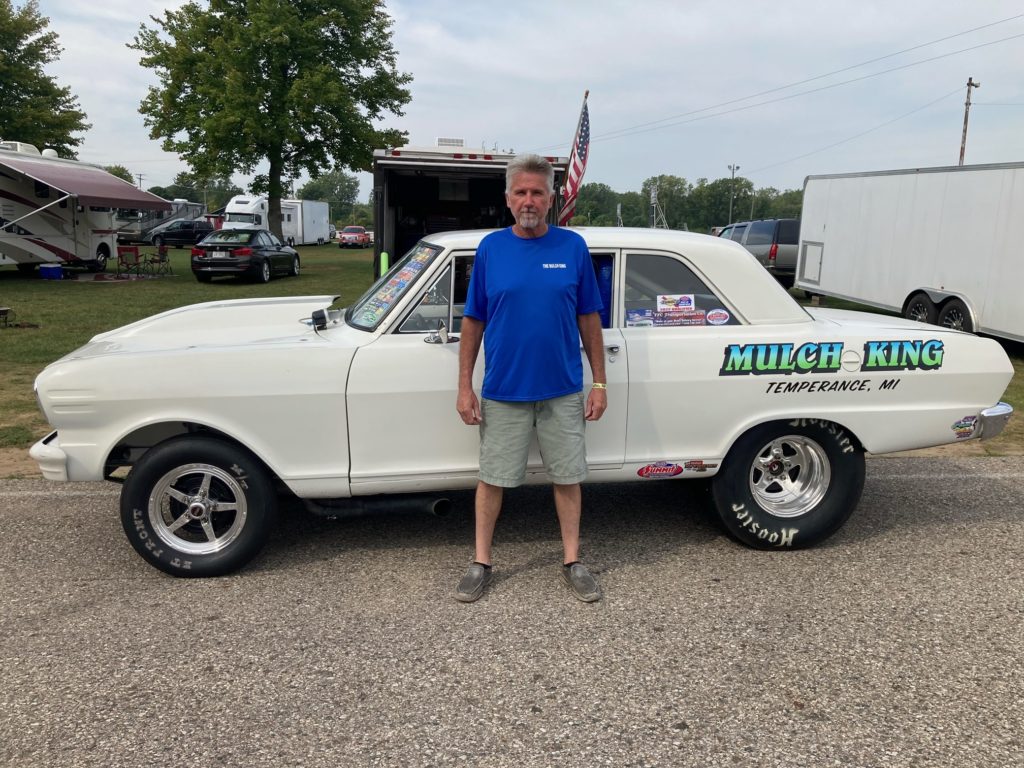 GET TO KNOW YOUR CHAMPIONS, PART 4: Milan Dragway is telling the stories of its 2022 McCormack Racing E.T. Bracket Series Sunday class champions. The Masta Performance Pro class had 74 racers enter the points this year – more than any other class. The winner? He never found victory circle all year.
PRO CHAMP: Ron Smith
HOMETOWN: Toledo, Ohio
CAR: 1965 Chevy II Nova
2022 MILAN WINS: None. "I didn't have any. It kind of sucks," Smith said. "I made it to several final rounds … There were only two or three times that I went there that I wasn't at least in the semifinal. I was pretty consistent up until that last round or two, and then I just couldn't get it done."
In recent years, Smith regularly won a few races – up until this year. Despite the disappointment of zero weekly wins in 2022, Smith said he prefers the big trophy.
DAY JOB: Retired heavy equipment operator
WHAT GOT YOU INTO RACING? "Another racer I ran into on the street, when I was still running around on the street back in my early days," Smith said. "He got me talked into going up there, Kirby McLennan actually, and I got started from that."
FIRST STREET CAR: 1965 Chevy II Nova – the same one he races today. Smith started putting it together as a 14 year old and has had it for 52 years. He doesn't drive it on the street anymore, though.
"That's the only thing I've ever raced," Smith said.
HOW DOES IT FEEL TO BE CHAMPION? Smith won a championship or two at Milan back in the 1980s, but this is his first title since then.
"Did a little celebrating. It feels great, with the competition as tough as what it is," Smith said. "There are just a lot of good racers. It definitely feels good to be able to feel like I'm in competition with them."
MOST MEMORABLE CAREER RACE: After winning a Milan championship in the '80s, Smith ran off against the other class champions to determine the overall track champion.
"I ended up winning my class and then running off against 'Wild Man' Dan Harrison in his front-engine dragster. I went to the final race, but he ended up beating me," Smith said. "It was kind of cool going against 'Wild Man.' He was pretty well known back then. I'm sure a lot of the older guys will definitely remember him."
ADVICE TO FELLOW COMPETITORS: "I would say don't worry about the end result. Just go up there every round and have fun and give it your best," Smith said. "I think you'll have a great year if you do that."