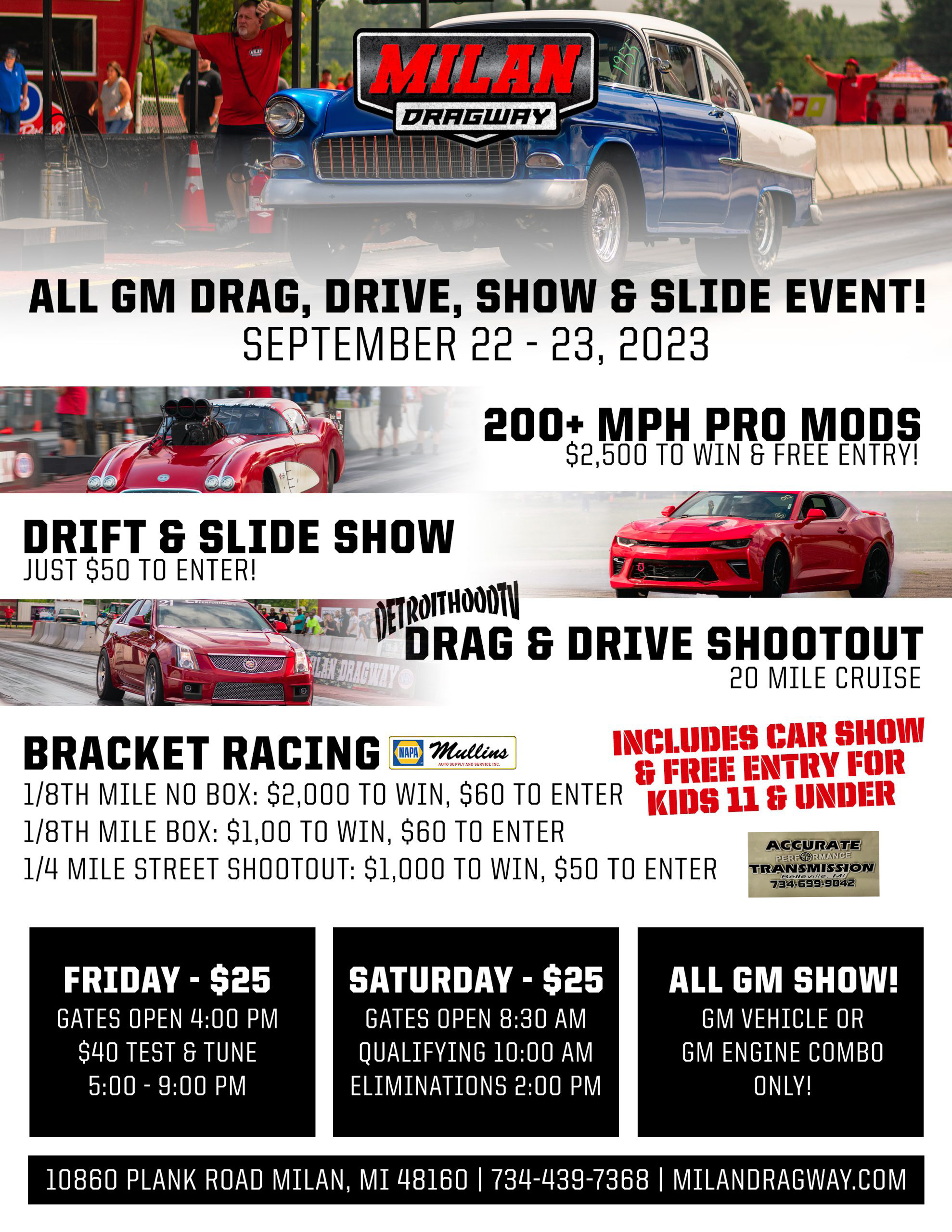 Welcome to the Ultimate GM Experience!
Rev those GM engines and mark your calendars! Milan Dragway proudly presents the "All GM Drag, Drive, Show & Slide Event". A two-day extravaganza dedicated exclusively to the iconic General Motors cars and those powered by GM engines. Whether you're a drag racing enthusiast, a drifting aficionado, or simply a GM car lover, this event promises a thrilling experience like no other.
Event Highlights:
GM Exclusive Drag Racing: Experience the sheer power and elegance of GM cars as they blaze down the track. From classic Chevys to modern Cadillacs, witness the best of GM in action.
Bracket Racing: Precision and timing take center stage. Watch as your favorite GM cars go head-to-head in a test of skill and strategy.
Drag-and-Drive Shootout: The ultimate test of performance and endurance. Participants will take on a designated 20-mile street cruise and then return for a drag race! This event separates the "street cars" from the "Street Cars" if you know what we mean…
Drifting Galore: Hold onto your seats as GM-powered cars showcase their agility and power, sliding and drifting for fun and excitement.
Classic & Modern GM Car Show: Marvel at a diverse range of GM cars, from vintage classics to the latest models, all polished and showcased for your viewing pleasure.
And More!
Event Details:
Dates: September 22 and 23, 2023
Location: Milan Dragway, 10860 PLANK ROAD MILAN, MI 48160 | 734-439-7368 | MILANDRAGWAY.COM
Tickets: Available at the gate.
RACER INFORMATION
---
Friday
Gates Open: 4:00 PM
Test & Tune: 5:00 – 9:00 PM
Test & Tune Entry: $40 to race, $20 to spectate
Saturday
Gates Open: 8:30 AM
Time Trials & Qualifying: 10:00 AM
Eliminations: 2:00 PM
Drag & Drive Entry: $50 to race, 100% payback
Run What Ya Brung Entry: FREE, $2500 to win (sign up here)
Box Entry: $60 to race, $1,000 to win
No Box Entry: $60 to race, $2,000 to win
Street Entry: $50 to race, $1,000 to win
Drift Entry: $50 to drift / 12:00 – 5:00 PM
Car Show Entry: No Extra Charge, park on pit side
Crew / Spectator Entry: $25 per adult, $10 per 12 – 15 year old, FREE for kids 11 & under