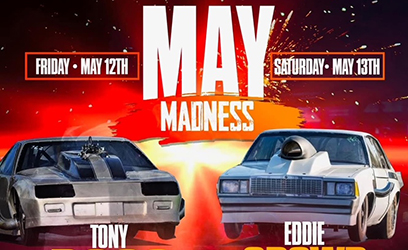 This Friday and Saturday, come to Milan Dragway and see what madness really looks like at the May Madness Drag Race presented by Payso Productions. Come watch as Tony "Boss" Bynes takes on Eddie "Crowd Pleaser" Phelps. Better yet come out and race in one of the 4 shoot-outs.
Friday:
Gates open on Friday at 11 am
Track Hot at 1pm
Saturday:
Gates open at 9:30 am
Track Hot at 12 pm
Tech Card: $65
Spectators: $25
$30 Parking Pass
Straight line Nitrous Nationals -$6500 or more
All Steel Some Glass- $2500 on top of the pot!
Richard's Auto GBODY- $5,000 or $10,000 (8 car or 16 car)
Limited LEAF SPRING GANGSTAS $2,000 on top of the pot!
Small Block Boosted Guys (8 car max field) $10,000
Dj Music
Food trucks
Bounce house for the kids!