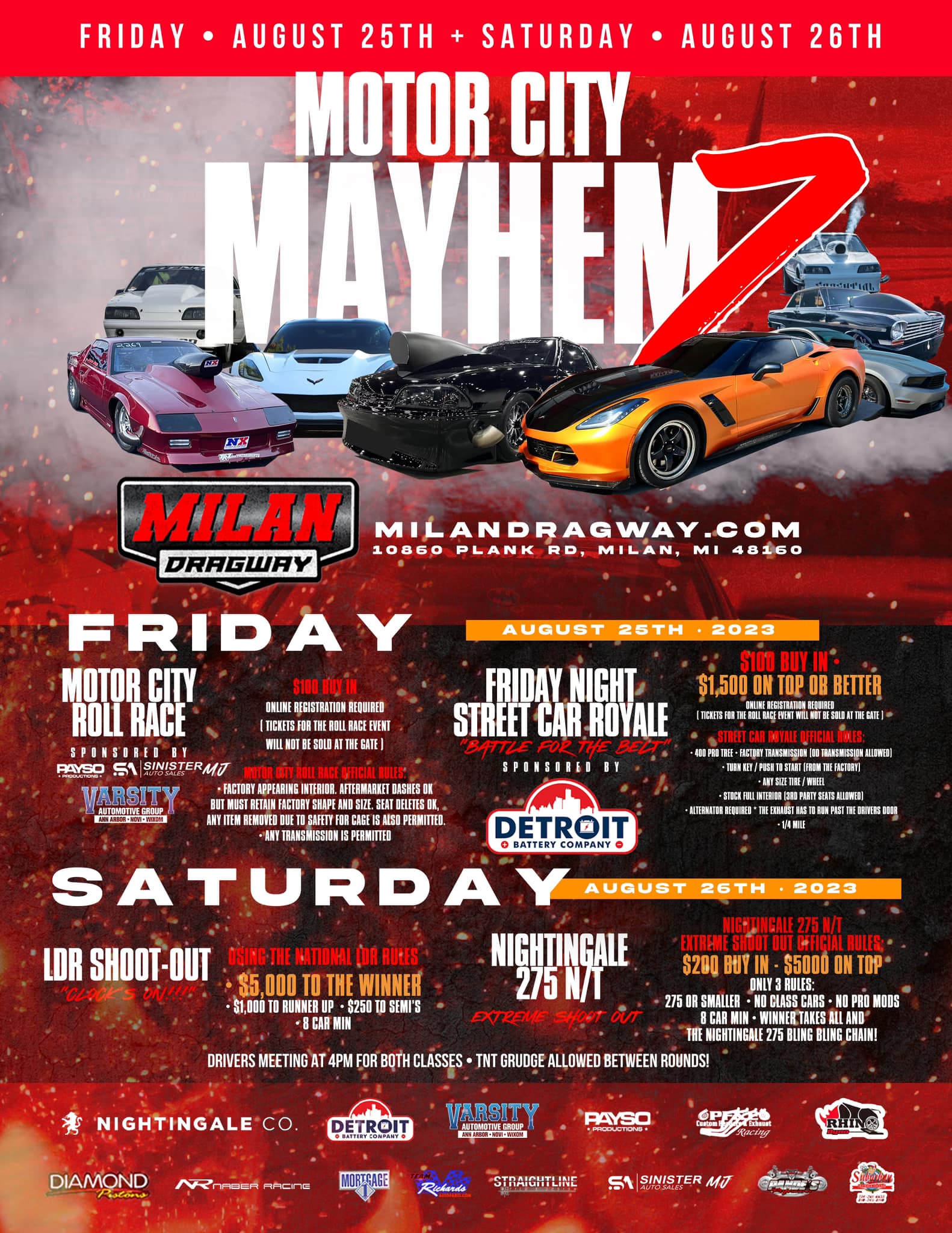 It's time to get ready for Motor City Mayhem 7! If you like Roll Racing, crazy Street Cars, Limited Drag Radial and INSANE 275 No Time cars, you NEED to be at Milan for this amazing event. Payso Productions knows how to put on a great race and this one will be huge!
Thursday 8/24
Dirty Harry's Radial Prepped Private Rental
We are not running Dirty Harry's Track Rental on Thursday due to weather.
Friday 8/25
Motor City Roll Race
Gates open at 9:00 AM
Track goes hot at 10:00 AM
Roll Racing Ends at 5:30 PM
TICKETS FOR ROLL RACING MUST TO BE PURCHASED ONLINE IN ADVANCE!
https://tickets.thefoat.com/paysoproductions/event-242443
Friday Night Street Car Royale
Drag Racing starts at 6:00 PM – 10:00 PM
$100 Buy In – $1,500 on top or better!
Test and Tune, Grudge Races, and Shoot Outs!
Saturday 8/26
Gates open at 9:00 AM
Track goes hot at 10:00 AM
LDR Shootout
$200 Buy In – $5,000 to the winner!
Clocks will be on…
Using the National LDR Rules
Nightingale 275 N/T Shootout
$200 Buy In – $5,000 on top!
There are only 3 rules… 275 or smaller, no class cars, no pro mods. Winner takes all!
LOCK INS WILL COLLECTED BEFORE THE EVENT!
$50 Tech Card per day
$25 1 day Spectator/Crew
$40 2 day Spectator/Crew
$20 Parking Pass on Pit Side