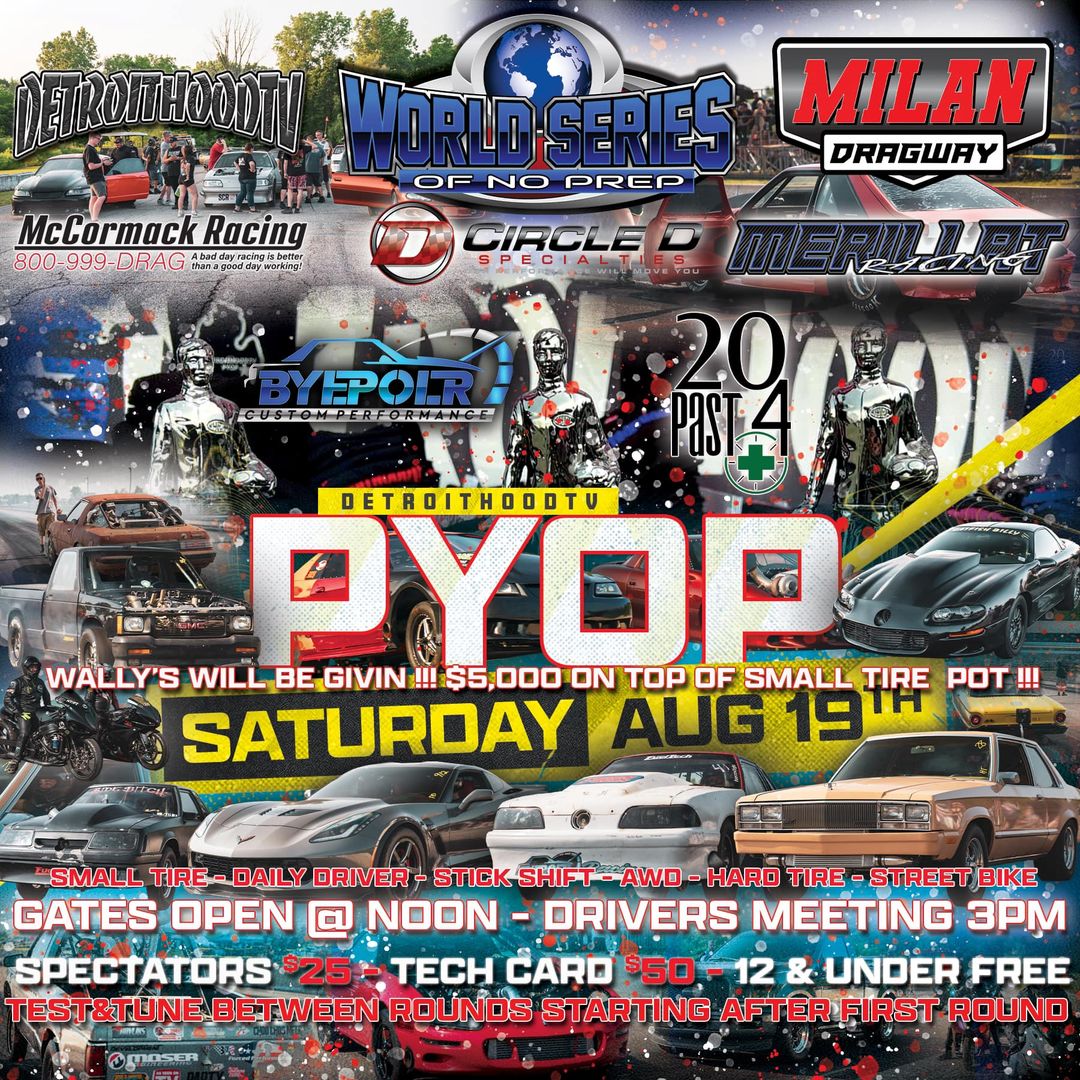 Detroit Hood TV is heading to the back of the track for their "World Series of No Prep" here at Milan Dragway. Big money on the line, pour your own puddle, and some of the best no prep madness you'll see anywhere in the world.
$5,000 on top of small tire pot!
Wally's will be handed out to the winners of Small Tire , Daily Driver, Stick Shift, and Hard Tire!
PYOP trophies for AWD, Street Bike, and Big Tire
PYOP
This is a 1/8th mile drag race
Off the trailer
No prep
Back end of the track
Flashlight start
No double entry of classes
Stage by the bumper, win by the bumper
Chip draw for parings
Tire crack, you lose!
Cross in front, you lose!
Cross Behind and come around… you bad!
Tech card $50.00
Spectators $25.00
Kids 11 and under are FREE
Gates Open at 12:00 PM
Driver's Meeting at 3:00 PM
Track hot after driver's meeting
Daily Driver Shootout or AWD Shootout must be on the property and ready for cruise at 1:00 PM. Please have proof of insurance ready to show.
Shootout buy in are separate from a tech card!
Shootout buy in take place at the DetroitHoodTV Tent!
SMALL TIRE $200
28×10.5 Non W
No Bars
Any Power Adder
AWD limited to a 8.5 tire (Must say on sidewall)
HARD TIRE $100
200 tread wear or greater
No AWD
DAILY DRIVER $50
30 Mile cruise
Full interior
All glass
Plates and insurance
No AWD
Max tire size for a 15 inch wheel 28×10.5 non w or a 275
17 inch wheel or bigger can run any tire
Exhaust must run past front doors
You can't stop during the cruise
Must stay in line start to finish
AWD $100
No slicks (radial only)
30 Mile cruise
Plates and insurance
STICK SHIFT $100
H Pattern (No sequential)