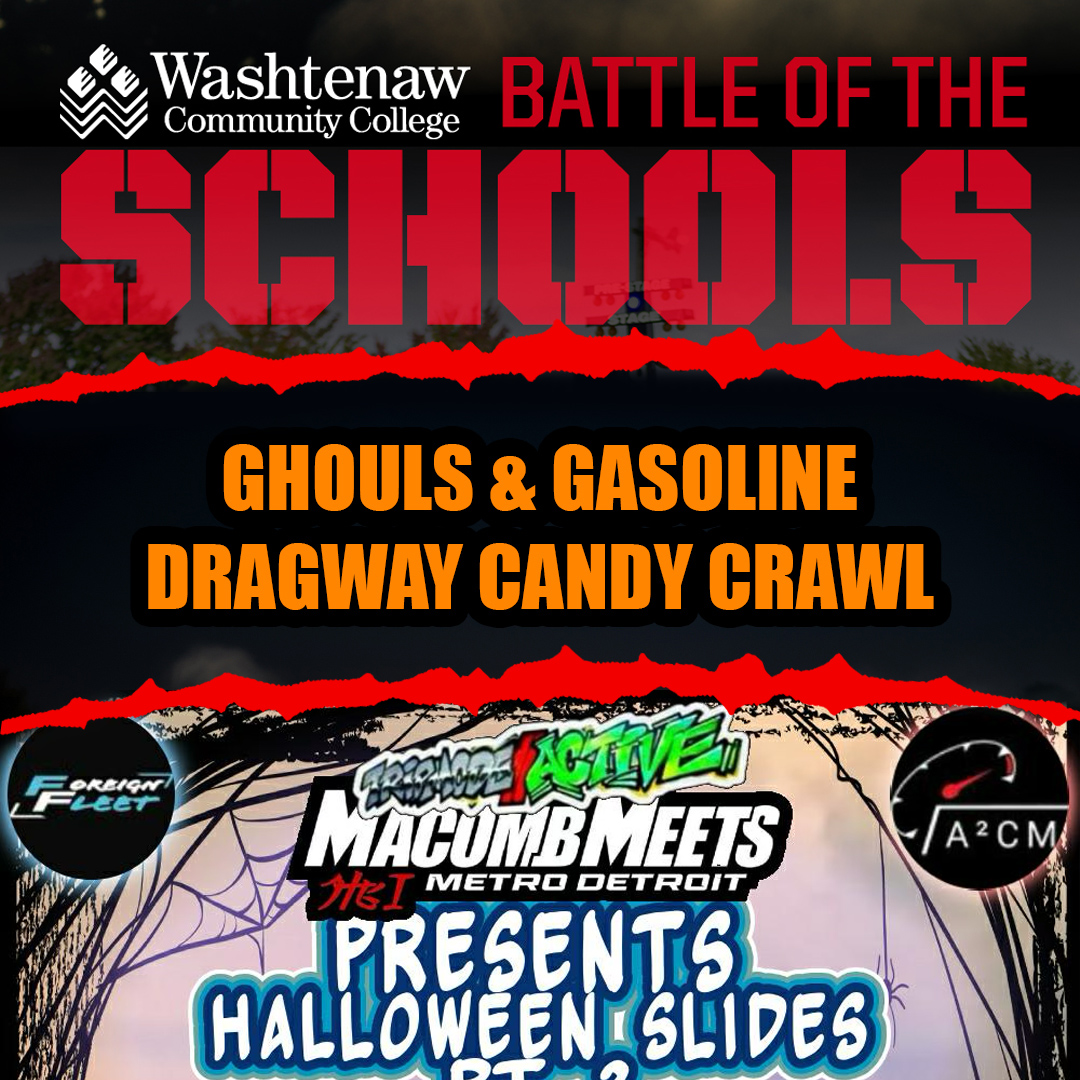 Milan Dragway Presents: The Ultimate October Showdown!
Date: Saturday, October 21st
Join us for a day of high-octane drag racing action, sweet treats, and thrilling slides at Milan Dragway! We're combining three of our most anticipated events into one epic day. Here's what's in store:
🏁 Battle of the Schools 2023 (LEARN MORE)
Gear up for the ultimate showdown where high school and college students, along with instructors, go wheel-to-wheel in a thrilling race for school pride. Represent your school, show off your driving skills, and let's see which institution takes the crown. Remember, you'll need a current student ID and driver's license to participate. Click here for more information.
🍬 Ghouls & Gasoline Candy Crawl (LEARN MORE)
From 11 AM to 2 PM, all Milan & London Township residents can join in the fun for **FREE** with a valid ID and a costume. Want to be part of the candy-giving crew? Host your own candy trunk or table and be a part of the sweetest event of the year. Click here to register your candy trunk or table!
🎃 Halloween Slides Part 2:
Get ready for some spine-chilling drift action! Experience the thrill as cars slide and glide in a Halloween-themed showdown. Whether you're a racer or a spectator, the Halloween Slides promise a spectacle like no other. $40 to Slide, $20 to Spectate.
🏎️ Halloween Test & Tune:
Test & Tune open to any and all racers! This will be a great way to close out your Test & Tune season here at Milan Dragway and get in your last hits before winter time. $40 to Test & Tune, $20 to Spectate.
—
Mark your calendars and gear up for a day filled with racing, candy, and slides. With so much happening, Milan Dragway is the place to be on October 21st. We can't wait to see you there!
Address: 10860 Plank Rd., Milan, MI 48160
Gates Open: 9:00 AM
*Life, Liberty & The Pursuit of Speed!*